One of the most recent, yet underutilized forms of optimization is known as a schema markup (also known as structured data).
In this article, were going to discuss how to get ahead of the game by using schema markup, the importance of schema markup and how rich snippets and JSON-LD schema code can be utilized.
What is Schema markup exactly?
Essentially, it's code that you insert into your site so that search engines can return more informative results for the user. By telling a search engine what your content means, the SERPs don't merely display a couple of lines about your site.
Think about what a Google serp entry looks like when you carry out for a search for a local business. Then compare it to what it would have looked like years ago. Not only are you getting a mini-description of the business but you're also getting useful and relevant information that any potential customer would want to see. This information can include opening times, contact details and the location.
Generally speaking, a site utilizing schema markup tends to rank higher on search engines that sites without markup.
Roughly 33% of Google's search results utilizes rich snippets, including schema markup. However, according to some, less than 33% of sites utilize schema markup.
Think about it for a second. By not utilizing schema markup, the majority of sites are missing out on a huge SEO boost. Therefore, if you decide to get ahead of the game and incorporate schema markup, then you'll be getting ahead of the competition.
Another thing that's great is that you don't have to go through and arduous process of learning new coding skills. Web pages with markup will still use HTML. All you're doing, is merely adding pieces of schema.org vocabulary to HTML microdata.
What is a rich snippet?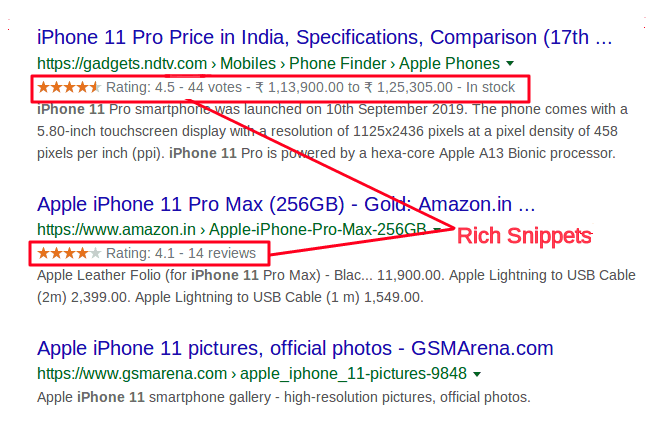 A rich snippet describes structured data markup that you can utilize in addition to your existing HTML. It allows Google and other search engines to gain a better understanding with regards to what information is displayed on each of your web pages. This allows search engines to return more relevant results to searchers.
You're probably already very familiar with rich snippets. Examples include things like:
Ratings,
Pricing, and
Availability.
What is JSON-LD schema code for SEO?
Chances are, if you've been researching rich snippets, structured data, and microdata, then it won't be too long before you come across JSON-LD schema code.
JSON-LD essentially offers a very simple means to allow the creation of machine-readable data from sites and webpages to promote search results.
How to create a schema markup
If you're convinced of its benefits and ready to create your own schema markup, follow these steps:
Head to Google's Structured Data Markup Helper.
Select which type of data you wish to markup. You'll find several options available to you.
Copy and paste in the URL of the article or web page that you want to markup. Then click "start tagging."
Determine what type of elements you want to be marked up and highlight and select them.
Add as many markup items as you need. You can use the list of data items as a guide, before highlighting whichever other items that you want to add to the markup list. Although you can't add an infinite amount of items, add as many as you can.
Create the HTML. Do this by simply clicking "Create HTML."
How does structured data effect rankings?
There has been a lot of discussion and experimentation as to how structured data affects rankings. However, at this moment in time, there has been no conclusive evidence that this markup has a direct improvement in rankings.
However, with Google placing increasing importance on Schema markup, it's imperative to get ahead of the game and incorporate rich snippets into your priorities. Doing so will make you look more professional and will help to get relevant information to people that are looking for you. In fact, for many business owners, potential customers may get all the information they need from rich snippets and won't even bother clicking onto websites. Now, think about that for a second.